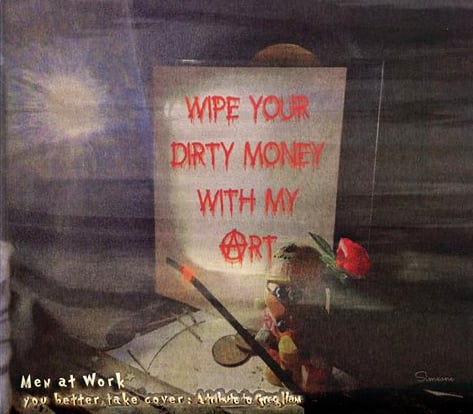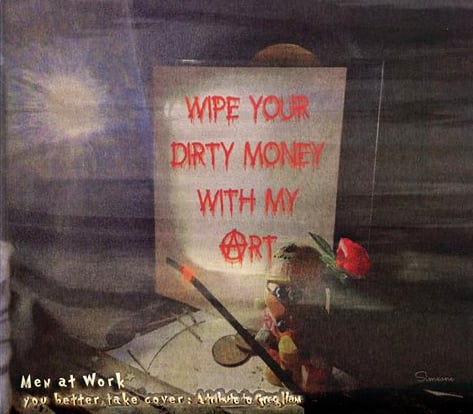 Men at Work - Greg Ham Tribute Album ''You Better Take Cover" 2 CD SET + Alternative Mixes EP
by Men at Work
$15.00 / On Sale
2 x CD DigiPak Limited Deluxe Edition with 8 page tribute photo booklet. Second disc is a Video CD (see below for track details.) Also included is a free instant download alternative mixes EP with digital pdf booklet. The booklet contains extra photos and sleeve notes. FREE instant download of the album with EVERY purchase!
Release date: 27th Sept. 2018.
You are buying direct from the distributer, CD's are brand new unplayed. Originally released via PledgeMusic: www.pledgemusic.com/menatwork
FREE UK postage. We ship worldwide at standard post office prices.
Tracklist
CD1-01 Still Life
Composed By – Greg Ham
Electric Guitar – John Phillips
Electric Guitar, Bass, Lead Vocals, Keyboards, Percussion, Vocoder, Producer, Engineer, Mixed By – Lee Simeone
Electric Guitar, Electric Bass, Guitar – Eric Benjamin Gordon
Mastered By – Lee Simeone*, Simon Gibson
CD1-02 I Like Too (Greg Ham Performs Rap)
Composed By – Ron Strykert
Lead Vocals – Greg Ham
CD1-03 Pump Up The Love Boat
Backing Vocals – Kelly Auty
Composed By – Greg Ham
Drums – Justin Dwyer
Performer – Miss Dorothy & His Fools In Love
Saxophone – Greg Ham
CD1-04 Interview
Interviewee – Ron Strykert
Interviewer – Harry A Hayes, Lee Simeone
CD1-05 Settle Down My Boy (acoustic)
Bass – John Rees
Lead Vocals, Acoustic Guitar, Electric Guitar, Composed By – Ron Strykert
Producer, Mixed By, Mastered By – Lee Simeone
CD1-06 Interviews
Interviewee – Jerry Speiser, John Rees
Interviewer – Harry A Hayes, Lee Simeone
CD1-07 Lipstick Twitch
Bass, Backing Vocals, Drum Programming – Paul O'leary
Drums, Percussion, Backing Vocals – David Rogerson
Guitar, Backing Vocals – Rex Delaney
Keyboards, Backing Vocals – Mark Bersons
Lead Vocals, Guitar, Percussion – John Phillips
Saxophone – Greg Ham
Trumpet – Gavin Cornish
CD1-08 Colin Hay Pays Tribute
Interviewee – Colin Hay
CD1-09 Jump In My Car
Composed By – Les Hall, Ted Mulry
Flute, Backing Vocals – Greg Ham
Vocals, Acoustic Guitar – Colin Hay
CD1-10 Cruel To Be Kind
Composed By – Ian Gomm, Nick Lowe
Drums – Justin Dwyer
Electric Bass – Francessco Rea
Keyboards, Backing Vocals – Richie Male
Lead Vocals – Miss Dorothy
Tenor Saxophone, Backing Vocals – David A Williamson
Tenor Saxophone, Flute, Guitar, Harmonica, Backing Vocals – Greg Ham
CD1-11 Dromsally Rise
Lead Vocals, Guitar, Drums, Synthesizer, Bass, Harmonica, Keyboards, Composed By, Producer, Engineer, Mixed By – Lee Simeone
CD1-12 Who Can It Be Now? (soundcheck)
Lead Vocals, Guitar, Composed By – Colin Hay
Saxophone – Greg Ham
CD1-13 Interview
Interviewee – Jeremy Alsop
Interviewer, Music By – Lee Simeone
CD1-14 Interview
Interviewee – Glenn A. Baker
CD1-15 Star Lane
Lead Vocals, Electric Guitar, Acoustic Guitar, Drums, Synthesizer, Bass, Vocoder, Composed By, Producer, Mixed By, Engineer – Lee Simeone
Video CD2-01 Original Promotional Tape
Film Producer, Film Director – John Phillips
Performer – Miss Dorothy & His Fools In Love
Saxophone, Flute – Greg Ham
Video CD2-02 Too Hot
Performer – Miss Dorothy & His Fools In Love
Saxophone – Greg Ham
Video CD2-03 Colin Hay & Greg Ham In Soundcheck
Lead Vocals, Electric Guitar, Composed By – Colin Hay
Saxophone, Flute – Greg Ham
Video CD2-04 Star Lane
Music By, Film Producer, Composed By – Lee Simeone
Alternative Mixes Free download
01 Ron Strykert – Settle Down My Boy (Acoustic / Comic Book mix)
02 Miss Dorothy – Pump Up The Love Boat (Greg Ham's Karaoke mix)
03 John Phillips – All I Want is You (Feat. Greg Ham)
04 Lee Simeone – Nonchalant Charm (Feat. Greg Ham)